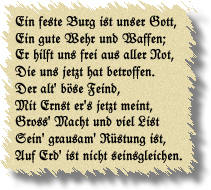 Freedom...that's what today means. That's what Martin Luther started to declare to a world in captivity--a church in captivity--nearly 500 years ago. "You're free! You're free because the Son has set you free!" And if the Son sets you free, you are free indeed.
But what about freedom? What is this captivity? They are not slaves, they are not in prison...of whom are they captives? "I tell you the truth, everyone who sins is a slave to sin," Jesus said. But Jesus also said much more: "Now a slave has no permanent place in the family, but a son belongs to it forever. So if the Son sets you free, you are free indeed." That's it, end of story, no need to go further.
Though, nearly 500 years ago (longer, even), some decided they needed to. Instead of heeding Jesus' gracious call to freedom, they decided to tunnel their way out of captivity. The Church in Rome thought it a good idea to charge a fee for freedom. "By this indulgence," they delcared, "you can earn your freedom, so many years out of purgatory, a quicker entrance into heaven!" The saying actually went, "As soon as the coin in the coffer rings, the soul from purgatory springs."
Even for them, however, the Son of God has proclaimed freedom. With his nail-scarred hands and feet and a body ravaged by beatings, he bought our freedom for us. With his own precious blood, Jesus set us free. "So if the Son sets you free, you are free indeed!" No indulgence needed!
The Son has set us free, not with silver or gold, but with His innocent suffering death. No might of ours can do it; our loss would quickly come. Only the Son can set us free, free from bondage to sin and to life everlasting. By His release, we are made sons of God, fellow heirs with Christ--we who hear and believe, we who continue in God's Word. For it is that Word of God that sets us free. "You're free," He proclaims. And if the Son has set you free, you are free indeed.
...He helps us free from every need... May we rejoice in that this Reformation day and every day. Posted today is my Reformation day sermon, if you wish to read it.