Nothing could have prepared us for this. We've had to make the hardest decision of our lives today.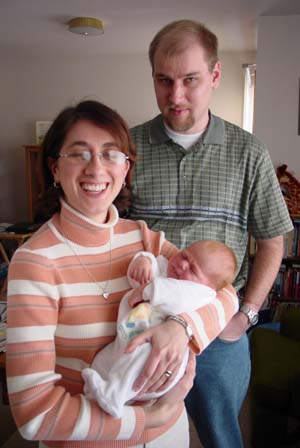 Meet the Remlinger-Noonaningers. He is Justinian, and she is Cassandra. They are holding their new son, Robert Josef Valentine Remlinger-Noonaninger.
Yes, you've guessed it. We've sold our son. We got a good price for him, too. Officially, we'll call it an adoption (you know, so we can be legal and all that). We're grateful that the Remlinger-Noonaningers have decided to keep the name. Now, he really has a name that just rolls off the tongue: Robert Josef Valentine Remlinger-Noonaninger.
It was a difficult choice to make, but we think it was the right one. Being a parent is way difficult...we're just not cut out for it. However, with the money we've made, we can travel the world and see all the sites...for a whole year. So, we'll be planning our trip in the coming days.
Anyway, we hope you have a wonderful life, Robert with your new mommy and daddy, Cassandra and Justinian.