Robert has been doing lots of fun things these days. If you put him on his tummy, he'll either roll over (if he wants nothing of it) or he'll do "push ups" until he works himself anywhere from 90-270 degrees around in a circle! He's been laughing up a storm... from anything to daddy trying to tickle him, to mommy mimicking his laugh or his sticking out his tongue. He's also blowing raspberries now... it's hard to get him started, but once he does, he doesn't want to stop!
He LOVES to stand! He's pretty good at it, too. We only have to hold him either at his hips or else hold his hands and he does the rest. In fact, he likes doing it so much that we're considering getting him an exersaucer (it's like a walker - but no wheels so it stays in one place) so that he can stand to his heart's content without either of us killing our backs stooping over him. He will also "lunge" for what he wants - whether he's standing on my lap or leaning on my chest (like for being burped)... if he decides he wants to go left or right... he will! He likes to play "possum", too - which you'll see when you click on...
The first two are of Robert's new trick... playing possum! If he's crying, we do this and he stops... and sometimes laughs! Excuse the mess in the first picture - we're working on it =)
The third is of him in his VBS onesie. One of the craft projects each year is to paint their shirts, so when I made mine, I made this for Robert =)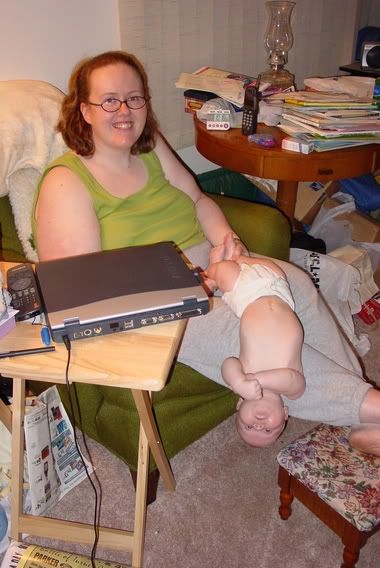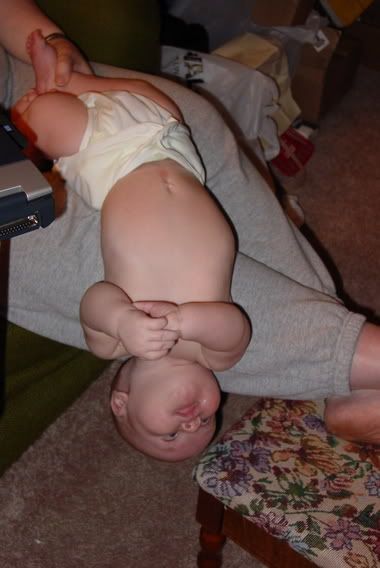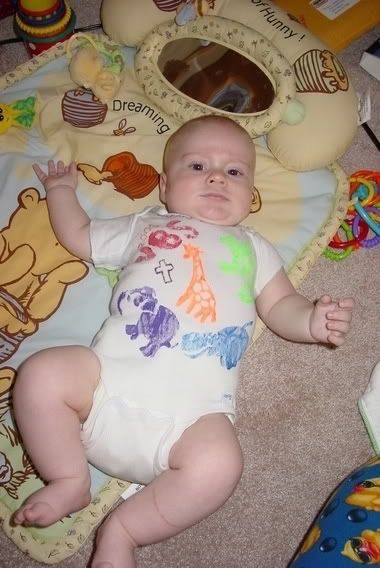 And I love this picture of him. When he sleeps, he will sometimes suck in his lower lip. I had Geof take this one afternoon when he fell asleep after "lunch".