Okay, the super bad teething pain seems to have stopped for the day - replaced it with the constant pooping (yay) - but he's had a good day, so I'm happy.
In other updates, all of a sudden the boy has a TON of hair. It all grew out in the last couple of weeks. I was joking with one of my friends that I wondered if HE had heartburn since he grew so much hair so fast (old wives tale about heartburn during pregnancy = baby with lots of hair). He had a good amount of hair when he was born, lost a lot of it, and now it's back. Geof likes to mess it up =) He's really cute (I'm speaking of Robert this time - but they both are!)
He's also big into kissing right now - but when he's done you need a mop and a towel! There's a picture of him "kissing" my leg in the photos where I was trying to get the best shot of his hair. He's been making these chewing/kissing sounds with his mouth all night. We tried to get it on video, but of course he only did it a few times then.
The pictures in the striped shirt are from Saturday the 9th - they're just here because they're cute. The white shirt ones are from today (13th) - and I'm not holding him up with my legs... he was balancing himself on a footstool - I just had my legs up to catch him if he wobbled too much one way or the other.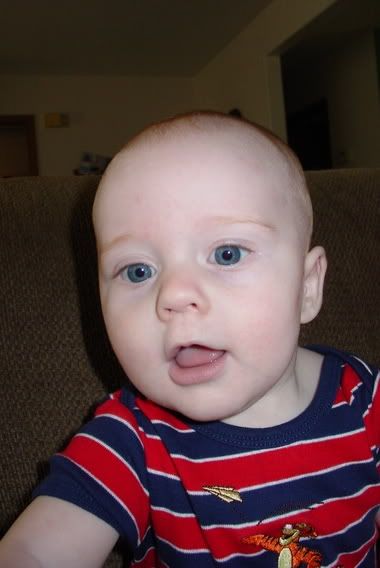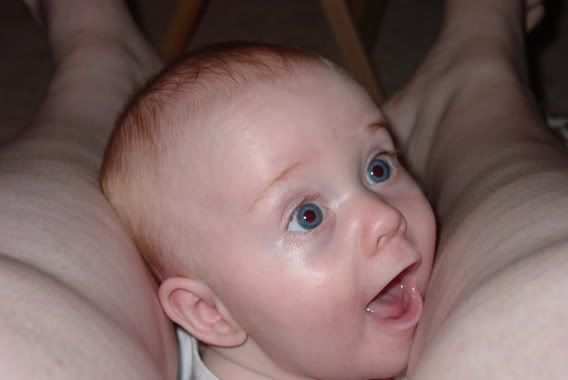 Here you can see how thick it is