WHAT?!?!? Seriously, this boy will not listen to us telling him to slow the aging down.
No, really, the time is going fast - as we knew it would - but we're loving every minute of it. To celebrate his 6th "month-a-versary" today, Robert took a little stroll into the land of "solid" food. I mashed up a little bit of banana with some breastmilk and he slurped up about a third of it.
Then spit it all up.
So I think the next time we try solids with him, I'll just give him a little (non-chokable) piece of banana and let him pick it up and have at it. I don't think we'll try it again until he's back in South Dakota (we're still in Florida with the southern Wagners), but we'll see. He's definitely been showing an interest in our spoons, food, how we eat, etc. for awhile now but we wanted to wait the recommended 6 months from the AAP. Knowing Robert as I do, I have a feeling he'll be one of those baby's that doesn't take to them for awhile yet. That's okay - we'll just keep offering them to him and letting him lead his solids-eating... and I'll be getting a lot of healthy leftovers (we're making all his baby food ourselves).
Here's a couple pictures from today's breakfast...
I'm not too sure about this...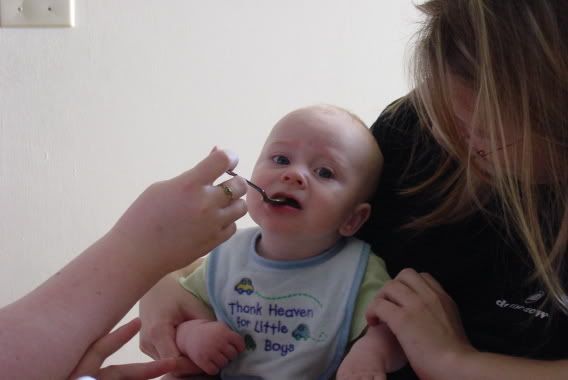 Hmmm...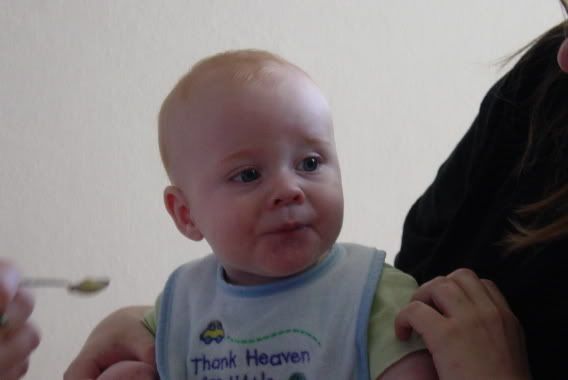 Okay, I'll try some more.