It's been really busy here with the conference last week and then a funeral this week, so I'm sorry that we're a few days behind.
I weighed Robert at the post office yesterday - 18 lbs 7.5 ounces. Yes, he's down 1.5 ounces, but he's also extremely mobile these days... so I'm not worried. I haven't measured him yet - but I plan to do that when I change him this evening.
He's got his tooth, still working on that second one. Geof said that he crawled three "steps" today up in the office at church while I was working with the ladies in the kitchen downstairs. As of last night, I'm finally willing to say that he waves now when prompted. Sometimes it takes a bit to get him going, but he'll wave back if someone waves at him (and if he's waving to "the baby in the mirror" we can be there for awhile!) He has also started "singing." He doesn't sing when other people are singing, but he will sing "with" the music on his swing, sometimes the radio, too. He was singing while he was nursing to sleep last night, too.
His favorite sounds (I won't say words yet) are nah nah nah, da-da-da-da, and ma-ma-ma-ma-ma. We haven't heard much of Bob Bob Bob Bob lately, but he'll still smile big if you start "Bob Bobbing" at him.
Here's a few pictures of the boy from the past month:
I just don't understand why you threw out all these perfectly good "toys"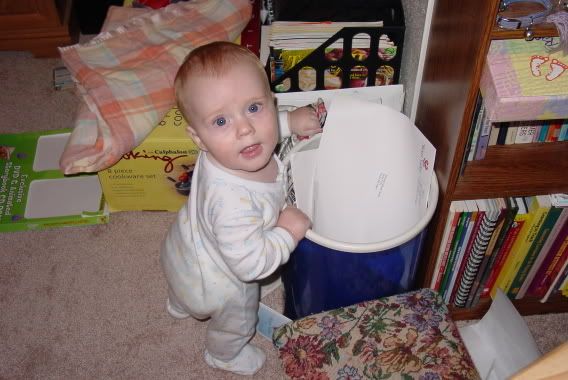 Our little patriot at the homecoming parade
Sleepy babe
I'm gonna stand up now...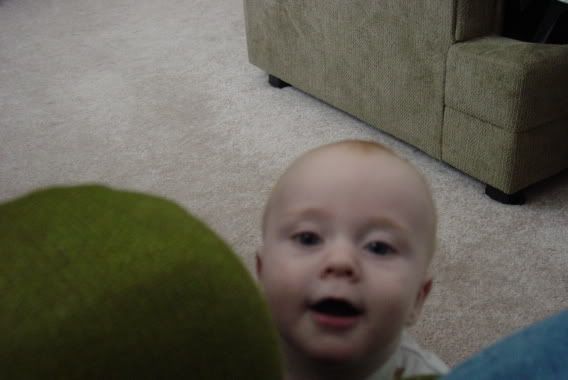 I'm standing!
Now, nothing is safe!!!!
What? You've never seen drool before?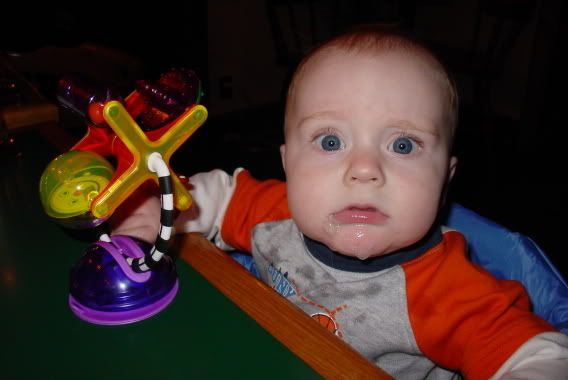 At the pumpkin patch with my friend Karen (pronounced CAR-in) and her kids (well, two of them are pictured)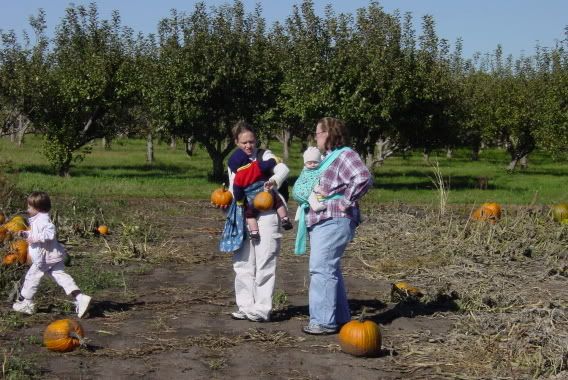 My little autumn cutie!