Sounds he makes... growling, this raspberry-like car sound, hysterical laughing, singing off and on whether there is music or not, and happy babble... lots of happy babble. He likes to screech a lot, too. He bangs on any flat surface in front of him, and he likes to tear the rings off the stacking ring toy... now to get him to put them back on...
He's big on doing the things he's not supposed to do - and he thinks "no" is funny. So far we've been pulling him away from the books in the bookcase, the videos in the video cabinet, banging on the glass of the entertainment center and the TV, and the cords to anything electrical. He keeps trying to get into my crocheting, too. He's such a stinker! But we love him like nothin' else.
He's getting really good at feeding himself the veggie puffs, too... though the jarred foods are another story as you'll see from these pictures...
Unhappy tooth boy
Taking things out of his toy bin
I can feed myself, thankyouverymuch!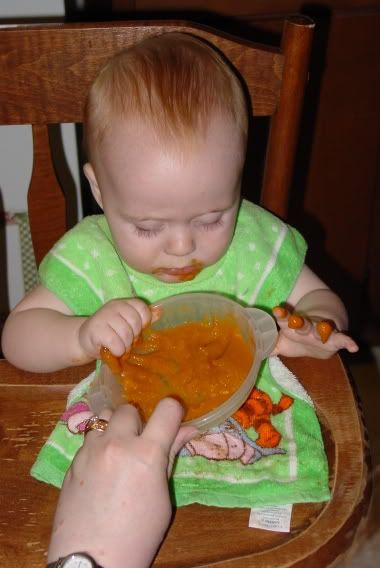 So excited to crawl and pull-up on the entertainment center that he pants'd himself