Potty training had been going well - for the most part it still is. We just have to get him out of the pull-ups when we're out and about and just deal with wet clothes, I think. Otherwise, even though we've been dragging the potty with us at his request, he keeps using his pull-up as a diaper... so much so today that I had to change his pants before church was over. But he's doing pretty well with poop, only one "accident" (that wasn't so accidental) and not having to be prompted to go at all. If we could just get him to stop plugging the sink and playing in the dirty water...
Here are two pictures of my little man. I didn't get any pictures of him on the 4th - I meant to get a family photo and just forgot. But here are two - one from last week when he and his buddy, Kaya, were hanging out on the couch watching Sesame Street and "napping" - and the other from today after church.
The kids being lazy and "taking a nap" on the couch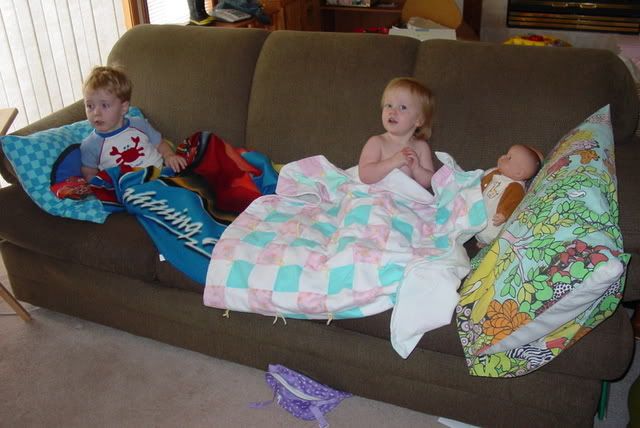 Robert loves his flag, too. He was blowing on them to make them waive. Geof pointed out that he looks a lot like Oma in this picture... I agree!