Well, I can answer that question in a myriad of ways. Instead, I opt for a short synopsis:
I got my new PPC
We went to Chicago-land
We had the car repaired
We rented a Penske truck and loaded it up
We drove said Penske to South Dakota and had it unloaded
We then drove the Penske to Iowa to drop it off
After a Sunday of two church services, we went to another town for an installation of their pastor
Now, it's time to get back to normal...whatever that is.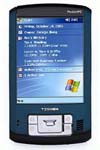 Let me introduce you to Tryphaena. She is a Toshiba e805. She can do amazing things that Trophimus was never capable of doing. Besides having Windows Mobile 2003 on her (Trophimus had Windows CE 3.0 for PocketPC 2000--CE stands for "Compact Edition"), she is also loaded with memory; she has 128 MB of RAM onto which programs can be installed and which programs use as swap memory to run. She has 64 MB of of flash ROM, 32 MB on which the OS resides, and 32 MB which is used as extra storage space that will not be lost following a hard reset. On top of that, she has two expansion slots--a Compact Flash slot and a Secure Digital slot--as compared to Trophimus' one slot--CF only. But it doesn't stop there, she also has 2 MB of video memory.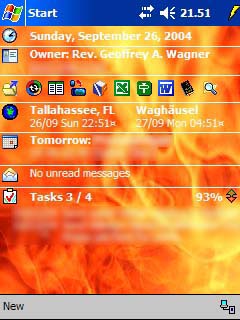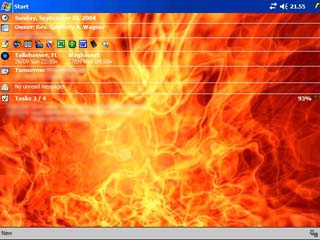 What? Video memory? YES!! The Toshiba e800/e805 is the first series of PocketPCs capable of VGA display. In other words, as you can see from the image below (or to the right depending on your window size), I can turn the display on its side and double the resolution, allowing more information to be displayed on the screen, though smaller in view. PocketPC coolness!
Well, our adventures began from there. We spent about 9 hours driving Interstate 90 to get from home to my wife's mother's place. This "vacation" was meant to gather the rest of her belongings, which we had intended to move last summer, and complete the move to South Dakota.
Well, as we pull off of Interstate 290 in the Chicago-land area, the engine is making a whining sound. So she gives Saturn a call and sets up an appointment (which we later would change). Having a thought as we leave a friend's house that evening, I begin unplugging some devices that are connected to the two power outlets, thinking that the alternator is going bad. Sure enough the sound dies down. Catastrophe avoided, I thought. As it turns out, the belt tensioner was about to go; had that busted while we were driving around town, we would no longer be driving. It's a good thing we got it fixed when we did. Oh, and the "good folks" of Saturn of Sioux Falls could learn a thing or two about service from the really good folks of Saturn of Oak Lawn.
That done, we went the the mounds of stuff in my wife's mother's second story. We must have thrown away two dozen plus 30 gallon garbage bags, packed a ton of stuff to give away, and still had a ton of stuff we were going to take, not included the furniture which we REALLY wanted.
Anyway, Thursday came, and it was FINALLY time to load the truck. You know, God bless Penske for their terrific service. If you ever have to do a self-move, don't ever rent from U-Haul! A terrific crew of my wife's friends showed up at her mother's house, and we had that thing loaded in under two hours (well, maybe about three). It felt good to be done, for after all the packing and lugging the bags and boxes of garbage and books (respectively), my body was aching (and it is still somewhat sore and bruised today). Friday morning came all too quickly, so it was time to drive to South Dakota.
I really hate the governor on the truck. Don't get me wrong, I appreciate the job that it does. It's good to keep a larger-than-normally-driven vehicle from going to fast (because I'm not used to driving something so bulky), but to jerk me (and my cargo) as if the engine is failing every time I slip just over the magic speed limit is a bit annoying (especially when I'm driving through two states whose speed limits are or are above the magic speed limit). Twelve plus hours after leaving Chicago-land, we were finally back in South Dakota...back in the midst of friendly people (though we must have met the friendliest person in Chicago at Brown's Chicken...cordially held the door open for us as we left). A terrific group of youth and one adult from the church had that thing unloaded in about half an hour the next day...what an excellent group of people!
Well, after everyone left after unloading the truck, it was time for another hour to hour and a half in the truck, driving it to Sioux City to drop it off. You know, it would be nice if Penske would open a place in South Dakota where that could be done. After getting home, the feeling of finally being done with the move hit us...with the exception of unpacking.
Of course, today, we were in no mood to do much of that. The usual Sunday routine of going to two church services, of me leading two church services, is enough to zap both of us. On top of that routine though, it was a privilege to participate in the installation of a new pastor in my circuit, so that cut out a large chunk of time in the day.
Now, bed time quickly approaches, and tomorrow is my day off. Perhaps, aside from a prenatal doctor's appointment, we'll use the time to relax and unwind from our vacation.